With patios now a key social area in all settings, many will be in need of more regular maintenance. Our latest blog includes top tips on cleaning a stone patio – to restore good looks, keep surfaces safe and make ongoing maintenance easier.
The deep down clean
To thoroughly clean, we recommend
LTP Grimex
which is applied using a brush or garden broom and rinsed with clean water. Stone pavers – especially limestone and sandstone - are porous and a specialist treatment like
LTP Grimex
will react with stubborn, ingrained residue and organic matter, drawing it out of the stone's porosity.
We do not recommend power or jet washing. Cleaning with pressurised water will open capillaries in the surface of the stone, creating the perfect breeding ground for black spot, lichen, moss and other organic matter.
If you have a build-up of black spot, lichen, moss and algae, we also recommend
LTP Blackspot & Algae Remover
, which breaks down microspores and black spot 'hyphae' before they colonise within the stone. LTP Blackspot is acid-free, so it's safe to use on all types of paving, even acid-sensitive stone. However, it does contain a bleaching action to remove stains, so always carry out a test on an inconspicuous area first.
How to apply LTP Grimex:
1.To remove mild staining, dilute one part of Grimex with 6 parts of warm water. Wash the surface thoroughly, using a brush or yard broom, and rinse with clean water.
2. For more severe staining, dilute one part of Grimex with 3 parts of warm water, depending on severity. Agitate with a scrubbing brush and leave to act for 5-10 minutes, adding more solution to keep the surface wet.
3. Sweep up any residue and rinse thoroughly with clean water.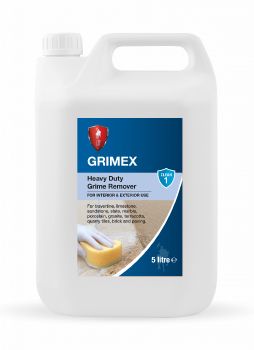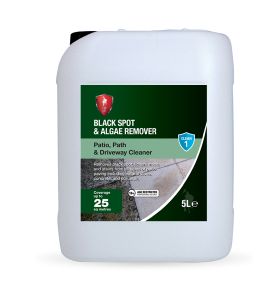 How to apply LTP Blackspot & Algae Remover:
1. Apply neat Blackspot onto clean pavers with a plastic watering can or light pressure garden spray.
2. Leave to absorb for 2-4 hours; the product will begin to turn white as it gets to work.
3.Hose off thoroughly with clean water.
Stone patios will benefit from a thorough clean every couple of months or so – ideally, three times during late spring/summer and a couple of times during the winter. Surfaces that are regularly cleaned will be far easier to keep clean. Regular cleaning of inside-to-outside surfaces, like those that run through bifold doors, will also help maintain a seamless aesthetic. Read more about in Don't stop at the door.
Stopping water ingress
Once the pavers are clean and dry, it's an ideal time to replace any lost jointing sand or cement mortar. This will stop the ingress of water and will help protect paving during the winter freeze and thaw cycle.
Added protection for the seasons ahead
If your patio hasn't been sealed, consider applying a protective treatment. We recommend LTP External Stone Sealer – a non-film forming impregnator that will help prevent the absorption of moisture and organic particles, reducing staining and the spread of algae, mould and black spot.
LTP External Stone Sealer is a water-based, impregnating sealer that's applied using a foam roller or paint brush, as shown in the Video Aid. It can be applied over residual moisture and it will protect pavers from stains, weathering, damp and efflorescence. It's also UV resistant and non-yellowing.
To find out more, please visit http://www.ltp-online.co.uk. For further information, please contact LTP on tel. 01823 666213 or email [email protected].