About Us
Over the past 3 years LTP has seen its turnover increase 300%. With over 700 stockists in the UK and Ireland LTP has become one of the major suppliers of sealing cleaning and maintenance products to the tile and stone market.
The history of LTP however, goes back nearly 20 years when Anthony Robb, owner of Wellington Tile Company started to import terracotta from Portugal and recognising the need for an ageing liquid to give the tiles an antique finish, he went home, mixed up a secret brew in his cement mixer, bottled it in 1 ltr jerry cans and branded the new sealer as LTP OLDTONE OIL. A few weeks later the cement mixer was in action again, this time concocting a clear finish sealer LTP CLEARTONE.
The terracotta was sold as Lionheart Terracotta so the range of sealers became known as Lionheart Terracotta Products, or LTP for short.
Today, production has moved away from the cement mixer to a specialist chemical packing company and then sold direct to the customer, cutting out the need for an agent. This means that LTP can offer a concise range of reasonably priced sealers, cleaners and maintenance products that are easy to apply. All of this is backed up with a technical help line, web site, literature and product guides.
Richard Osborne, managing director, explains... " We have developed the LTP product range over the past 15 years based on our first hand experience of the tile trade. We have been involved with selling tiles all this time and we have looked at the sealing issues from the sharp end and then developed a product to address these problems, rather than take a chemical and say what can we use this for.This means that when we bring a product to market we know that not only will it do exactly what it is meant to do, but also what it is meant to do is what is required!"
Over the past few years LTP has concentrated on selling its products to the tile showrooms and now has a sales force of six covering UK and Ireland. Initially Mark Atkins was the only one responsible for sales, but now with the increased representation he is able to concentrate on research and development, marketing, and expansion into the stone market through architects and specifiers.
Despite the rapid expansion LTP remains a small business offering good after sales service to all its customers. " This personal touch is very important to us" comments Mark, "and its something we are determined not to forget as we expand".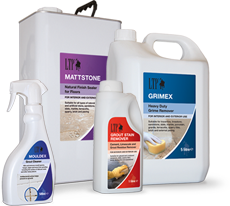 With over 700 stockists in the UK and Ireland LTP has become one of the major suppliers of sealing cleaning and maintenance products to the tile and stone market