LTP has introduced a new specialist rust remover to its British-made range. New Ferrex has been developed to remove rust outbreaks from ferrous hard stones, including sandstone, slate and granite. It also provides rust-resistance and removes fixing residues. Ferrex is an acid-based solution and it can be used on inside and outside surfaces, including floors, wall tiles and paving slabs.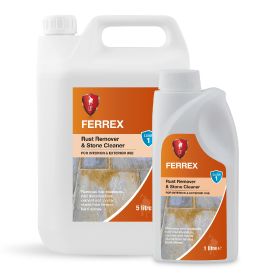 Ferrous stones naturally contain iron which can oxidise or rust when it comes into contact with moisture, from rain or contact with cleaning products. This reaction causes brown stains and discolouration which can be difficult to remove. Certain acidic cleaners, like brick acid and cement removers, also contain ingredients that can accelerate oxidisation. These same products are often used to remove rust marks and can create an even greater problems. LTP Ferrex is specifically formulated to safely remove these blemishes from acid-resistant stone.
Before application, surfaces need to be swept to remove dust and dirt. Ferrex is then diluted – between 1:1 and 1:3 depending on the degree of staining – and applied to the surface. Garden sprayers can be used for outdoor treatment. Stone that is badly stained should be agitated with a short-haired scrubbing brush or black emulsifying pad. After 3-6 hours, the surface should then be rinsed with clean water. If any stains remain, application can be repeated after a couple of days. Outdoors, application should be planned during fair weather, as treated surfaces should be protected from water for a couple of days following application. For further protection, we recommend follow-on treatment with LTP External Stone Sealer – an impregnating sealant that provides water resistance and reduces the risk of oxidisation.
LTP Ferrex is available on-line and from our recommended stockists, in one litre and five litre units. Please note that this treatment isn't suitable for acid sensitive surfaces, including highly polished natural stone, limestone, marble, enamel, zinc and other acid sensitive metals/materials. Some stones may also become slightly darker following application, so we recommend testing on a small area before full application.
To find out more, please visit https://www.ltp-online.co.uk/prod/ltp-ferrex or contact the LTP team on tel. 01823 666213 or email [email protected]
ends –
For media information, samples and photography, please contact Angela Fitzhugh on tel. (01590) 622521 or email [email protected]