In our last blog – Getting to grips with grout – we discussed the protection and restoration of cementitious grout joints. Discoloured grout can ruin a porcelain installation and it's a particular problem outdoors where tiles generally aren't protected. But it's not the only grout-related problem. Staining caused during installation by pre-mixed brush-in resin grouts – the preferred fixing method for many installers -.can also compromise an installation, often leaving an unsightly white haze or dark frame around the edge of the tile.
Unlike traditional sand and cement grouts, resin-based products combine an epoxy resin with a filler. This provides many benefits, including greater bond strength, durability and resistance to water, stains and chemicals. However, brush-in resins can be more difficult to work with and can easily stain tiles.
How to protect new installations
If you're installing a new porcelain patio with a resin grout, staining can be avoided by using a barrier treatment to protect the tile. We recommend LTP Porcelain Tile Protector, which provides a number of benefits: It prevents grout and resins from taking hold; it makes the removal of any residues much easier, should they occur and it improves and increases grout working times. A further coat applied after installation will make ongoing maintenance easier too.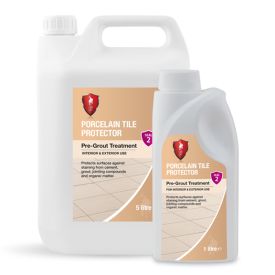 Before the Protector is applied, the tiles should be cleaned and left to dry overnight. To apply the protector:
Use a broad paint brush or light pressure sprayer.
Leave the treatment to dry for 30 minutes before applying a second coat.
Leave the treatment to cure for a minimum of one hour before grouting or pointing. Once the grout is dry, and all residues have been removed, a further coat of Protector can be applied to the tiles and the grout joints. This helps with future cleaning and aftercare.
How to remove resin stains from existing installations
To remove epoxy resin grout residue and white haze from existing installations, without damaging the joint or the paver, we recommend LTP Solvex – a non-caustic intensive cleaner/stripper. Solvex helps to soften the resin residues, allowing for easier removal. Application is normally followed by a final wash with LTP Grimex cleaning solution before rinsing down.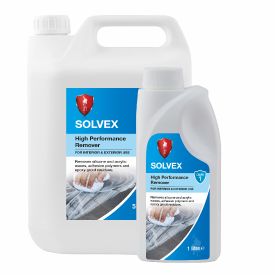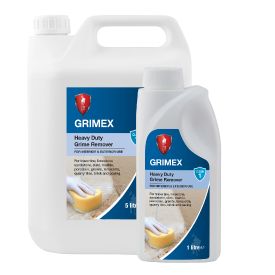 How to use LTP Solvex & Grimex:
Pour Solvex directly onto the pavers.
Apply generously by dabbing onto stains with a cloth or brush. NB. Always wear gloves to protect your hands.
Work in manageable areas; normally in strips as far as you can reach without treading into the solution. Do not brush out.
Leave for up to 30 minutes, but don't allow the solution to dry out. If it starts to dry out within this time-frame, apply more solution.
Use a coarse, stiff brush or LTP Black Emulsifying Pad to remove the softened coating from the surface of the paver. Repeat this process if some staining remains.
Wash down the pavers with LTP Grimex, diluted 1:3 with water.
Rinse with plenty of water and leave to dry.
As well as tackling brush-in resin grout, LTP Solvex can be used to remove wax, oil, silicone, acrylic and polyurethane sealer from porcelain. It can also be used on stone, travertine, terracotta, slate, sandstone, flagstones, quarry tiles and glazed ceramic. If you're removing residue from a previously sealed stone tile, a sealant should be reapplied after cleaning and when the surface is sufficiently dry; this may take a minimum of 24 hours.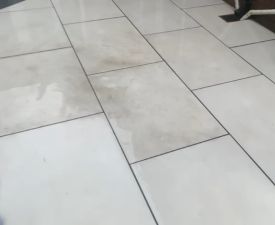 See the bottom left-hand tile, where residue has been removed with LTP Solvex.
A good ongoing maintenance regime
To thoroughly clean a porcelain patio, we recommend LTP Grimex. Grimex can be used at different dilutions depending on the severity of staining. Tiles are washed, using a brush or garden broom, and rinsed with clean water.
For periodic cleaning, you can also use LTP Porcelain Floor Tile Cleaner. This detergent can be used inside and outside, so it's ideal for continuous surfaces installed through bi-fold doors. Just dilute 2 or 3 capfuls in a bucket of warm water – or 5 on dirtier floors – wash the floor and allow to dry. This product doesn't require rinsing.
To remove other stains from outdoor slabs, solutions include LTP Blackspot & Algae Remover, LTP Rust Stain Remover and, for efflorescence, LTP Cement Grout & Salt Residue Remover. All three treatments are safe to use on porcelain and stone tiles.
For more expert advice and information, contact the LTP team on tel. 01823 666213 or email [email protected]