How to remove Water Stains ­from Natural Stone and Tiles
A water stain mark on natural stone
Natural stone and tiles are an investment that can add real quality to your home or office environment. When staining or marking of a stone surface on a kitchen, bathroom or office floor or work surface occurs, such as water stains; this can create a potentially difficult situation to resolve. This is the first in a series of articles from the LTP Technical Team that identify the most common stain issues for natural stone and tiles.
Understand your surface
Ensuring that you know what has caused stains on stone, the material stained and whether the surface is protected can all have a bearing on how you should address the issue. If you are in any doubt it is often more straightforward to seek expert assistance. At LTP we offer FREE technical assistance via our Helpline +44 ( 0) 1823 666213. In most cases, it will be easier to assist you if you are able to supply photographs of the issue and surface. Please send images to technical@ltp-online .co.uk with as much information as possible.
Is your stone surface protected?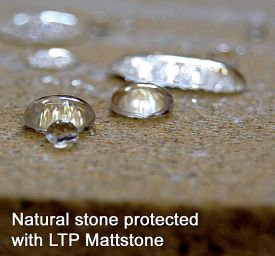 Knowing if your stone surface or tiles has a protective seal applied is important in understanding the best solution to address the issue. Often when a protective seal is in place the method for tackling the problem is much less aggressive and simpler. Essentially this is because the stain is most often only affecting the protective seal.
To protect natural stone and tile surfaces and to help prevent staining LTP recommends the following sealing products. LTP Mattstone or LTP Mattstone H20 for a natural (invisible finish) or LTP Colour Intensifier & Stainblock for an enhanced appearance. LTP Colour Intensifier & Stainblock deepens the colour and enhances the appearance of the stone surface.
Common stains on natural stone and tiles – Water Stains
Water stains can appear on natural stone and tile surfaces such as floors and worktops when water is left to stand, as it dries into the surface it can cause a stain. This is most common with porous stone surfaces such as limestone, flagstones, sandstone and terracotta, but water stains can also affect glazed ceramics, porcelain and polished surfaces such as porcelain, granite and marble.
THE MOST COMMON CAUSES OF WATER STAINS ARE OUTLINED BELOW…
Using the wrong maintenance cleaner can gradually affect the performance of the seal. This after a while allows water to penetrate beyond the seal. In areas of hard water, these water droplets can dry out to leave a lime deposit on the surface. Hard water stains are difficult to remove using normal detergents.
Repeated cleaning of stone surfaces using water and a mild detergent can create a film on the surface. When we mop and clean our surfaces the water dries off to leave a very slight film of residual detergent. In the months that follow this can create a micron thick film across the surface. Water droplets can dilute the detergent in the area that they sit on leaving a spot mark. This all happens on a fairly microscopic level, which is why staining of this nature is sometimes only visible when looking across a surface towards a light source.
The LTP approach to removing water stains
The method that LTP recommends for tackling water stains differs depending upon the surface type.
POLISHED LIMESTONE, MARBLE, TRAVERTINE AND OTHER ACID SENSITIVE POLISHED SURFACES
For acid sensitive polished surfaces, we recommend using LTP Grimex or LTP Power Stripper. Simply wash the area as directed by the label instructions, rinse and allow to dry. Note that if the surface has a protective seal the surface may need re sealing. To make sure that you achieve a uniform finish a wider area may need treatment.
ALL OTHER SURFACES INCLUDING ALL NON POLISHED STONES
We recommend LTP Cement, grout & salt residue remover. This new synthetic acid product is safe to use on acid sensitive non polished surfaces & is designed to remove, salt, cement & water stains. Simply follow the instructions on the label or Technical data sheet.
If the stain persists repeat the treatment, if this is unsuccessful please contact our FREE helpline.
Still unsure? Try our new product guide to help select the correct products.
PLEASE NOTE: Always follow the detailed instructions on the product labels. Protect stone surfaces from contact with acidic substances. Do not use abrasive materials on honed or polished stones. Avoid using normal detergents or strong bleach cleaners on sealed surfaces as they will gradually remove the protective seal.
Please note that this information is offered as general guidance only and without guarantee. Your specific circumstances may need an alternative approach. In case of doubt, any process should be tried out in an inconspicuous area before general application.
At LTP we believe in helping to offer solutions and this is why we offer a no obligation
LTP TECHNICAL HELPLINE, so please give us a call on +44 (0) 1823 666213.