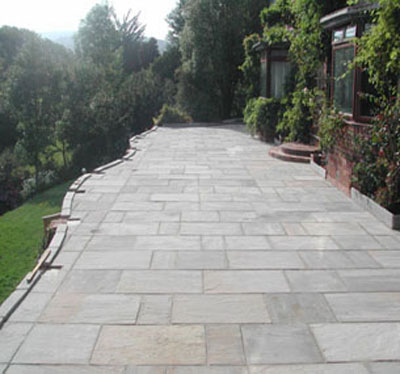 Limestone, Sandstone, Travertine, Marble, Slate, Granite, concrete:
Regardless of what type of flooring you choose, the likelihood is it will require some form of sealing.
This is because natural stone is porous, and therefore if left unsealed, any moisture will be soaked up by the stone making it very difficult to remove, and potentially leaving the surface permanently stained (sometimes even fallen leaves can cause stains).
The best way to prevent all this is to seal the stone.
When you seal a stone, you are essentially filling any voids or pores of the stone with the sealer. This prevents any further liquid to absorb in to the tile, as demonstrated here with this close up shot of a water droplet on a tile sealed with LTP Mattstone.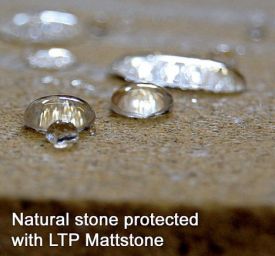 When sealing natural stone outside it is important to use a breathable impregnating sealer, this will allow the transition of moisture from underneath.
Examples include LTP Mattstone H20 and LTP External Stone Sealer which are both waterbased sealers and will need 24 hours of dry weather to cure.
It is important to note that all stones located outdoors are susceptible to a condition known as efflorescence.
This blooming is caused by water moving through the substrate of a material and carrying minerals and salts found in the mortar bed, grout, soil or the stone itself.
We have a blog here all about efflorescence.
Its also very important when laying Natural stone to make sure that its fixed on a full bed of adhesive and not spot fixed.
The end result could look like this if its spot fixed.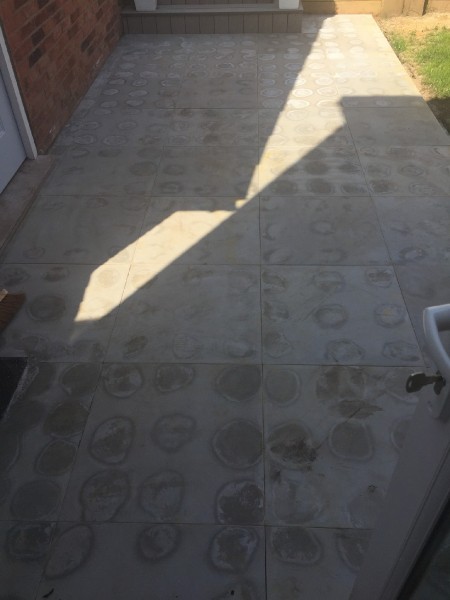 If this has already happened to your patio, we have a blog here.
When sealing different natural stones, what will vary the most will be how many coats the stone will need before it is fully sealed.
Each stone exhibits different levels of porosity. A tumbled Limestone may have a higher porosity level than a Honed and filled Limestone.
Sealing natural stone with Mattstone H20
Shake bottle before use.
Test the porosity of your stone with water and a teaspoon, using the LTP porosity test.
Once surfaces are clean and dry, apply the product to the surface evenly using a sealant applicator pad, brush or soft cloth.
When sealing its important not to over apply the sealer and redistribute excess, avoid letting the sealer pool on the surface, as this can cause white marks to appear on the stone when it dries.
On highly absorbent surfaces apply several coats wet-in-wet.
After 15 minutes, remove any excess sealer with an absorbent cloth. Do not allow residues to dry on the surface.
Do not walk on the surface for 3 hours and protect from wet conditions for 3 days.
Sealing Stone With LTP External Stone Sealer.
Shake bottle well before use. Apply evenly to the surface using a foam roller or paint brush. On more absorbent surfaces apply further coats at hourly intervals until the surface is completely saturated. Remove any residual sealer if still visible after one hour.
Cleaning Tiles Outside
Before you start sealing your stone it is important to make sure your stone is clean and dry, other wise you will just seal in dirt and grime.
Old layers of sealer, dirt residues and light deposits of organic matter and algae must be removed from the surface and pores of the stone.
This can be done by either using LTP Grimex which is a intensive cleaner or LTPMouldex Paving Cleaner.
To Clean with LTP Grimex, dilute 1:3 with water, apply to the surface with a sponge or water brush and leave to sit on the surface of the tiles for as long as it takes for the dirt to release. (5-30 minutes depending upon the level of dirt). If areas look as if they are drying out just add a little more solution to keep the area wet.
Agitate the surface with a stiff deck brush after approx 10 minutes (scrubber machines can be used).
Continue to scrub while adding clean water. Remove residues from the surface with water or scrubber machine.
Rinse thoroughly with clean fresh water to remove all remaining residues. Use a power washer if necessary.
Allow the surface at least 24 hours to dry before sealing.
To clean with LTP Mouldex Paving Cleaner, Shake well before use.
Surfaces to be treated should be completely dry before application.
Pour solution undiluted directly onto the pavers and spread out evenly using a sponge or paint brush, Garden sprayers can also be used and leave for a minimum of 1 hour.
Apply a little water and agitate with a stiff Deck brush or emulsifying pad to release the dirt and grime, and then rinse thoroughly using a hose or jet wash.
Some stubborn stains and black spot may require a longer treatment, in which case apply and leave on surfaces overnight. If some black spot remains after treatment, It should fade and disappear after a few days following the treatment. If not: re-apply. Keep pets off at all times during treatment. In case of contact with metals, fabrics and painted surfaces rinse with water immediately. Do not use on warm surfaces. Do not apply if rain is imminent. Avoid contact with ponds & plant life: if contact is made rinse well with plenty of water.
General Maintenance.
Weekly or daily depending on conditions, use a hose and a brush to remove any debris that may be lying on the stone.
Then annually if required use LTP Grimex, this will remove surface dirt and grime, possibly every 6-12 months depending on condition.
Dilute Grimex 1:3 parts water and apply the solution on to the surface and agitate.
Leave for 10 minutes before agitating again and then rinse with water.
Allow 24 hours to dry and then if necessary re-apply a light coat of sealer.
Still unsure? Try our new product guide to help select the correct products.
PLEASE NOTE: Always follow the detailed instructions on the product labels. Protect stone surfaces from contact with acidic substances. Do not use abrasive materials on honed or polished stones. Avoid using normal detergents or strong bleach cleaners on sealed surfaces as they will gradually remove the protective seal.
Please note that this information is offered as general guidance only and without guarantee. Your specific circumstances may need an alternative approach. In case of doubt, any process should be tried out in an inconspicuous area before general application.