A natural limestone floor provides a beautiful natural finish that can be laid in all areas, including kitchens and bathrooms. It offers many practical benefits, being hardwearing and easy to maintain but, like all natural materials, it's important to use the correct cleaning and methods.
The correct cleaning product
Limestone is sensitive to acid, so it should be cleaned with a pH-neutral detergent.
General household cleaners should be avoided – they tend to be acidic and will etch the stone and the grout joint, and will damage any protective sealer that has been applied. Acid-based products will also dull a polished surface. Surprisingly, many eco-treatments aren't suitable for limestone; they may be kinder to the environment but they can still damage natural materials as they often contain acidic ingredients used to boost limescale and soap scum removal. To deep clean a limestone floor, we recommend LTP Grimex. As the name suggests, Grimex removes grime and stains, including oil, grease, ingrained dirt and wax. It's safe to use on all types of natural stone, as well as porcelain and ceramics tiles, and it can also be used to deep clean marble and granite worktops.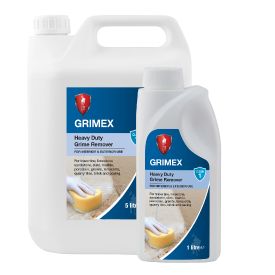 How to use LTP Grimex
Firstly, sweep or vacuum the floor to remove dust and loose dirt.
For areas that are slightly grubby, dilute one part of Grimex to ten parts of warm water. Apply with a cloth or mop and rinse with clean water.
For dirtier surfaces, use a stronger 1-3 dilution and agitate the surface with a brush. Let the solution act for 5-10 minutes, mopping with additional solution to keep the tiles wet, and agitate again before mopping up and rinsing thoroughly with clean water.
For built-up grime and stubborn stains, Grimex can be used neat and then thoroughly rinsed.
Tiles that have been deep cleaned with a low dilution or neat solution may need to be resealed. The easiest way to see if a sealer is still performing is to carry out a water test:
Drop a bead of water onto the surface.
If it sits in place, it is well sealed. If the water quickly soaks into the tile or makes the surface look darker, then it needs resealing.
To top up protection, choose a suitable sealer from LTP's range and carefully follow application directions.
Cleaning methods & materials to avoid
Steam cleaning:
This cleaning method is not recommended. Super-heated steam can damage any sealer applied and compromise the protection. It can cause 'spalling' or flaking of the limestone.
Natural cleaning hacks:
Homemade cleaning solutions are very popular but they are not suitable for limestone as they are generally acidic. The most common culprits are vinegar, lemon and baking soda. Bleach should also be avoided. Although it is an alkaline rather than an acid, it is still too harsh for limestone.
Ongoing maintenance
Once the floor has been deep cleaned, we recommend LTP Waxwash for regular day-to-day cleaning. Waxwash is a gentle, pH neutral detergent and it can be used on all types of natural and artificial stone. Just dilute 2-3 capfuls (or 5 for dirtier surfaces) into a bucket of warm water, mop and allow to dry.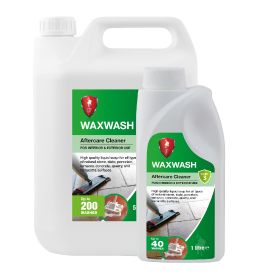 To find out more about patio maintenance, please visit http://www.ltp-online.co.uk. For further information, please contact LTP on tel. 01823 666213 or email [email protected]