With Christmas fast-approaching – and a promise of sharing it with loved ones for five days – now's a good time to give floors and tiles a once-over, to restore appearance and make ongoing maintenance easier.
Kitchen floors and bathroom tiles are two areas that often need a thorough deep clean, to remove a build-up of organic dirt and stains that thrive in moisture. Grout and silicone joints, and tiled shower areas can be particularly tricky to clean and tough cleaning products may seem like the best solution…. but take care. Many of the 'best-selling' products, and sometimes even those from eco ranges, contain acid which can damage tiles, grout, chrome fittings and any protective sealer that's been applied. To deep clean safely, we recommend LTP Grimex. As the name suggests, it removes grime and stains, including oil, grease, ingrained dirt and wax. It's safe to use on natural stone, as well as porcelain and ceramics, and it comes in a one litre and five litre cartons, as well as a trigger spray for more precise application.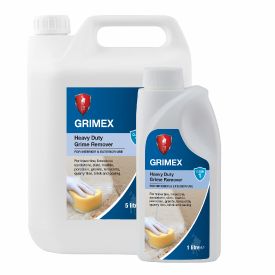 For grout and silicone that's stained with mould spores, we recommend LTP Mouldex. This treatment comes in a pump spray and its formulated to cling to surfaces, which targets the treatment and prevents run-off. Mouldex has a bleaching action which helps restore colour and it's antibacterial, so it helps prevent mould regrowth. It can be used on natural as well as artificial stone – and on coloured grout – but it's always best to test first, in an inconspicuous area.
How to use LTP Grimex
For areas that are slightly grubby – and for absorbent tiles – dilute one part of Grimex to ten parts of warm water. Apply with a cloth or mop and rinse with clean water.
For dirtier surfaces, use a stronger 1-3 dilution and agitate the surface with a brush. Let the solution act for 5-10 minutes, mopping with additional solution to keep the tiles wet, and agitate again before mopping up and rinsing thoroughly with clean water.
For built-up grime and stubborn stains, Grimex can be used neat and then thoroughly rinsed.
Sometimes, tiles that have been deep cleaned with a low dilution of intensive cleaner will need to be resealed. The easiest way to see if a sealer is still performing is to carry out a water test:
Drop a bead of water onto the surface.
If it sits in place, it is well sealed. If the water quickly soaks into the tile or makes the surface look darker, then it needs resealing.
To top up protection, choose a suitable sealer from LTP's range and carefully follow application directions.
How to use LTP Mouldex
Before applying the treatment, make sure that tiles are completely dry. Spray Mouldex 5-10cm from the surface and leave it to act for 45 minutes. Then, apply a little water and agitate with a stuff brush to help lift the grime and dirt. Finally, rinse the surface thoroughly with water and a clean sponge. For silicone and elastic grouting, and for stubborn stains, the treatment can be left overnight. NB. Mouldex shouldn't be used with acid-based residual grout removers or other acid- based cleaners.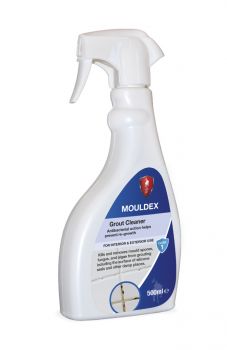 Other recommended treatments
Grimex Spray is really handy for cleaning wall tiles, work tops, grout lines and fireplace surrounds. It's sprayed directly onto the surface, once any dust has been removed, and left to act for a few minutes. A little water can be applied and the surface can be agitated with a brush or mild abrasive pad if need be – and the treatment can be repeated if necessary.
We also recommend LTP Multiclean spray for grease and limescale removal in kitchens and bathrooms. It can be used on glazed ceramics, glazed or un-glazed porcelain, sanitary ware, chrome, glass laminate and stainless steel. The cleaner should be sprayed 20 cm from the surface, wiped over with a clean, damp cloth, rinsed and left to dry. For stubborn stains, LTP Multiclean can be applied directly to problem areas and left for 15-20 minutes before agitating and rinsing.
For more advice, please visit https://www.ltp-online.co.uk or contact the LTP team on tel. 01823 666213 or email [email protected]