Basalt stone case study
Issues with white patches appearing after sealing Basalt tiles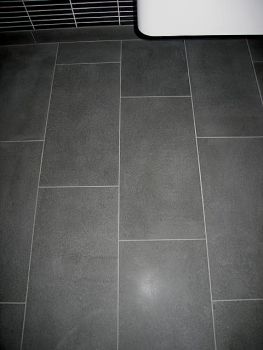 We were recently contacted by a customer who was having problems with white
patches appearing on their newly installed Basalt tiles. This is a common problem, so we thought we should share why and how this issue sometimes occurs. The pictures in this post supplied by a customer show a charcoal grey Basalt tile that has been sealed with a reputable stone tile sealing product.
THE CUSTOMER EXPLAINED:
"The dark tile is where a colour enhancing tile sealing product was used by the tiler to test to see if it might remove the lighter patches but as you can see this has only enhanced them; the tiled shelf has not had the sealer applied and displays the similar distinct lighter patches; one of the tiles has very distinct striations where it appears the saw marks have not been completely ground out; the floor looks dusty but it is not."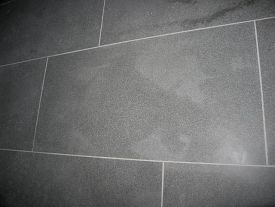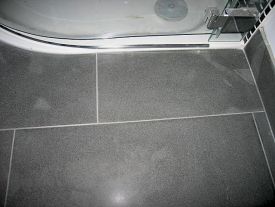 How and why discolouration can occur in Basalt stone surfaces and tile installations.
UNDERSTANDING BASALT STONE
In geological terms, basalt is quite a young volcanic stone. When volcanic eruptions take place and volcanic material is formed, excess argon gas can get trapped within lava flows. This argon is held primarily in lattice vacancy defects within the minerals that form to make basalt. These pockets of argon gas are sometimes released when the stone is quarried, cut into blocks, sawn into slabs and then honed on the surface to make it ready for use as a cladding and tiling material. This ensures that Basalt has an extensive capillary make up.
WHAT CAN CAUSE DISCOLOURATION AND HAZING?
Moisture and polymer from adhesive used to complete installations can be drawn up through the natural capillaries within the stone. This can release minerals and salts from within the stone, causing a light bloom or haze from within. In this instance, there is no chemical cure or cleaner that will remove the stains from the stone.
It is also common to see grout floated across the surface (in order to complete grouting between the tiles). This will often fill some of the open capillaries contributing towards a mottled and uneven appearance. In this case, grout on the surface can be removed using a chemical cleaner but grout that has settled within the open pores is likely to be impossible to remove. No amount of scrubbing or cleaning will make any difference. In both cases any additional sealing would only further highlight the marks left by the adhesive and the grout.
REMOVING THE DISCOLOURATION AND HAZING
There are two alternative approaches to addressing this issue:
For surface grout stains attempt to clean back the surface of the tile with a specialist intensive cleaner and reseal.
Remove and replace the tiles.
Intensively clean and reseal
Please note that the following advice should be completed on a small area (single tile) to establish if it will result in a more satisfactory finish:
Clean thoroughly with LTP Grout Stain Remover. This will effectively etch the surface of the stone and should dry to leave it more even in appearance. Note that this treatment will change the texture of the stone making it feel a little rougher. Rinse thoroughly and leave to dry. Re-seal using LTP Mattstone H20 applying as many coats as necessary to achieve saturation. Do not let the solution dry on the surface. Remove any visible excess from the surface within 20 minutes.
Remove and replace
Unfortunately, where staining has been caused by moisture drawn up through the stone or grout cannot be removed the only other option would be to remove and replace the tiles.
How to avoid issues when installing Basalt stone
When the new stone is fitted, make sure that the underside of the stone tile is sealed before laying. Use a good quality water-based sealer such as LTP Mattstone H20. After laying and before grouting, seal the surface of the stone with as many coats as necessary to reach saturation point. Before completing the general application of grout, test a small area for grout ingress. Grout ingress is caused when grout material is forced into the surface of the stone during the grouting process and can be difficult to remove. If grout material is absorbed, then a further coat of sealer may be required before proceeding.
Once all residual grout has been removed and surfaces are clean and dry, finish with a further coat of sealer making sure to cover the grout joints as well.
Please note: Always read the product label instructions before using any LTP product .
Still unsure? Try our new product guide to help select the correct products.
This information is offered as general guidance only and without guarantee. Your specific circumstances may need an alternative approach. In case of doubt, any process should be tried out in an inconspicuous area before general application.
At LTP we believe in helping to provide solutions and this is why we offer a no obligation LTP TECHNICAL HELPLINE, so please give us a call on +44 (0) 1823 666213 or email [email protected] and we will be happy to help you.