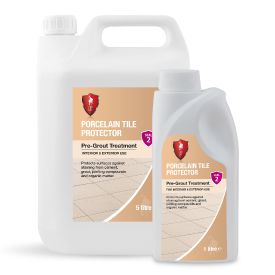 The difference in these two treatments comes down to the active ingredients. Those used in LTP Porcelain Tile Protector are very different from those in LTP MPG Sealer H20.
LTP Porcelain Tile Protector is a barrier treatment, rather than a sealant. It's designed for use on textured, matt porcelain tiles. The carrier within the Protector is mildly acidic. This allows for deeper penetration into the fissures of textured porcelain tiles, where it then dries and leaves the active ingredients behind. As they dry, they cross link within the low points of the glaze. This provides protection against penetration from cement and resin-based grouts, making the removal of any residues much easier. The Protector is completely invisible once cured, so it doesn't alter the appearance of the porcelain. This treatment is primarily used as a pre-grout solution, but it can also be applied to help assist with ongoing cleaning and aftercare, especially on external 22mm porcelain paving.
LTP MPG Sealer H20 is a completely different formula. It is only suitable for use on mechanically polished tiles, so tiles that have been polished using a mechanical process in order to make them very shiny. These include marble, porcelain, polished glazed porcelain and granite.
The action of polishing porcelain exposes capillaries, whilst polishing natural stone closes the capillaries. However, both remain porous and exposed. The result, in each case, is lots of microscopic pin holes that are very similar in size. If the surface of the tile isn't protected, grout and spillages will penetrate quite easily and stain the tile. MPG Sealer H2O has similar anti-stain base ingredients as Mattstone H20 but in addition it includes a blend of nano waxes that following application and drying are polished into the surface either mechanically or by hand. This is a key part of the application process. Polishing forces the nano wax into the open pores within the polished surface, giving it an enhanced smoother finish.
In contrast, the actives in Porcelain Tile Protector are too large and will not penetrate a polished surface as efficiently, so they will not work well on this type of surface. Equally, MPG Sealer H2O cannot be used on textured porcelain surfaces, as it is difficult to buff following application. This can result in a micro film that remains following application and turns white/opaque when exposed to moisture.
For more advice, visit https://www.ltp-online.co.uk. To contact LTP for more expert advice, tel. 01823 666213 or email [email protected]