LTP has launched its second-generation Product Selector tool at ltp-productguide.co.uk. The free online resource – which identifies the correct treatment according to surface type and symptom – has been updated to include the latest tile finishes and related issues. It now provides even greater scope and support for fixers, contractors and end users, as well as a valuable retail sales aid and training tool.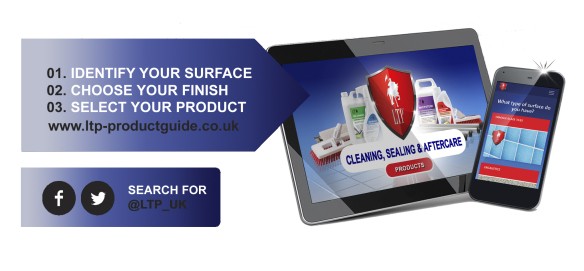 Designed to give an answer within one minute, LTP has modelled its Product Selector on "user-friendly railway ticket machines". Users select surface type, activity – either cleaning, sealing, aftercare or tooling up – and symptom. They are then instantly shown the product recommendation. Complementary products can also be displayed and results added to a 'my choices' tab. These choices can then be emailed back to the user or customer, for reference later.
The new resource has been deliberately designed in web format, rather than as an APP. As a result, it can be continually updated without having to issue a complete APP refresh. The resource is also stand-alone, and not connected to any form of online shop, so retailers can be assured that potential sales are not directed elsewhere.
To access the Product Selector, please visit ltp-productguide.co.uk. Or, for more information, please contact LTP on tel. 01823 666213 or email [email protected]
ends –
For media information and photography, please contact Angela Fitzhugh PR Ltd on tel. (01590) 622521 or email [email protected]