Polished concrete floors and concrete toppings provide great strength and resilience, making them a popular choice for high traffic settings. A properly installed floor, that's protected and maintained correctly, will tolerate even the harshest conditions, but use of the correct cleaners, impregnating sealers, finishing products and methods is essential.
Being a porous material, concrete is susceptible to moisture. It, therefore, needs to be correctly sealed, preferably with a water-based, non-film forming product that will allow the floor to breathe. This is important, because air or moisture trapped below the surface can cause a variety of issues:
Air trapped below a heavily and poorly applied film-forming sealer can result in visible application lines and the formation of small bubbles on the surface that leave visible circles when dry.
Using a spirit-based impregnating sealer on a concrete surface that isn't fully free of moisture can give polished concrete a cloudy opaque appearance when dry; oil and water do not mix well! This is very difficult to reverse when it happens and normally results in a complete mechanical re-polishing of the surface to remove it.
Many water-based sealers for concrete are 'finishers' rather than impregnators and do not breathe as well as non-film forming impregnating sealers. If applied to concrete that is still damp, any trapped moisture can then cause the concrete to effervesce and leave a white powdery residue on the surface.
Protecting the surface
As concrete is porous, it's important to seal the surface before applying a finishing treatment. This effectively fills the exposed pores and creates a barrier against water, oil and grease. Choosing a water-based impregnator sealer, like LTP Mattstone H2O, provides multiple performance benefits, in addition to environmental and safety features. Being non-film forming, it allows the surface to breathe. It is also non-yellowing, UV resistant and its water-based formulation means that it can be applied over residual moisture.
During application, LTP Mattstone H2O is spread out evenly using a sealant applicator. Once absorbed, a second coat is applied 30 minutes after the first. The surface is then dry buffed, using a machine or white pad, 45 minutes after application of the final coat. The concrete can be walked on after two hours and should be left to dry for 24 hours before applying any final finishing seal. Surfaces may look slightly darker after sealing, and sometimes patchy, especially if the sealer is applied when the floor is still slightly damp. This is caused by retained moisture and is normal. Once dry, the concrete will return to its original colour.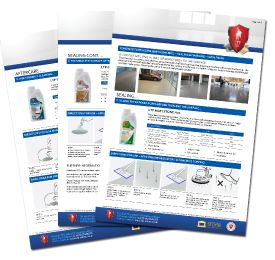 Concrete toppings and polished concrete method statement
The final finishing seal
To further protect and enhance the surface, we recommend a finishing coat of LTP Glaze Protector, once the sealer is dry after 24 hours. The Glaze Protector is a low odour VOC-free treatment that's highly resistant to wear and stains. Binding qualities also help to prevent dusting and degradation of the concrete surface. After application with a sealant applicator pad, the surface should be left to dry for a minimum of 45 minutes, before applying up to two further coats in the same way, until the desired finish is achieved. The surface should not be rubbed, buffed or walked on for at least 12 hours after application.

Examples of polished concrete after application of Glaze Protector
Like LTP Mattstone H2O, the Glaze Protector may make surfaces appear slightly darker after application but they will return to their original appearance. In high traffic areas, an annual top-up coat of protection is recommended.
Once cured, both treatments are completely inert, so they're considered to be food safe for catering and hospitality environments.
Ongoing maintenance
For daily/weekly cleaning, we recommend LTP Floorshine; an eco-friendly, rinse-free non-film forming cleaner that cleans and protects. Regular use helps to reinforce the protection provided by LTP Glaze Protector and renovates dull looking surfaces. Floorshine is diluted in water and can be used to clean floors manually and mechanically. Surfaces should be left to dry naturally before they're walked on. If Floorshine is used for aftercare, then top up coats of Glaze Protector can be applied without the need to strip the surface back.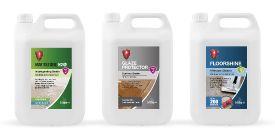 For more support and advice, browse the LTP blog, visit and subscribe to LTP TV on YouTube or contact the LTP team on tel. 01823 666213 or email [email protected]