We've had a number of calls recently about external patchy granite. Our first port of call was to check that the sealer had been correctly applied after installation. An uneven application could cause this light/dark appearance on the surface of an outdoor paver. One of the slabs in question was lifted and water beading showed that the sealer was still doing it's job across the whole surface of the granite, in both the lighter and darker areas. The sealer was performing and there was no evidence of over application residue. So what was causing this mottled appearance?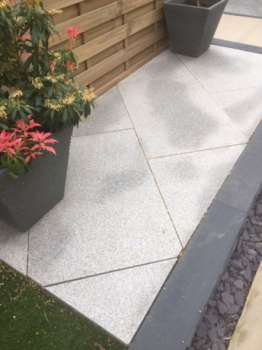 Following further investigation, and tests on our own granite, we found that moisture was penetrating the grout joint from above, collecting under the slab and then rising back up through the granite. On warm days, the damp patches dried out, as the sealer applied was breathable, but in wet or humid conditions the staining returned, as more moisture was drawn up through the stone. Armed with this knowledge, we were able to recommend a solution.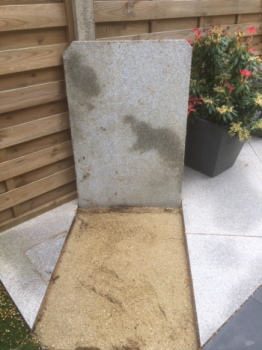 We lifted the slabs and used our own new Cement, Grout & Salt Residue Remover to remove the stains from the surface of the granite. Granite is acid-sensitive, so it's really important to use an acid replacement solution to avoid potential erosion of the surface. This particular treatment can be safely used on all types of natural stone, except for those with a polished finish. It works by dispersing the salt residue caused by rising damp (and also by spot fixing).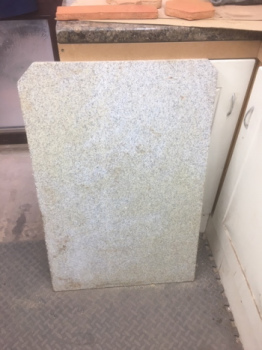 To prevent further moisture from rising through the granite, the stone manufacturer recommended applying a coat of PVA to the back of the slab. This 'back-buttering' technique protected the underside of the stone from moisture and the damp that was absorbed through the grout travelled back to the surface without entering the stone's porosity. A simple solution to (it would seem) a very common problem.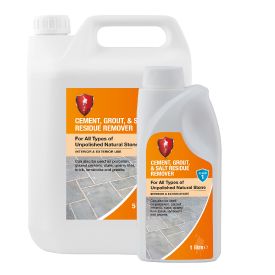 For more advice and information, please visit http://www.ltp-online.co.uk, tel. 01823 666213 or email [email protected]
ends –
For media information and photography, please contact Angela Fitzhugh PR Ltd on tel. (01590) 622521 or email [email protected]