This issue is not un-common, we get hundreds of calls every year about the use of polished marble in heavily trafficked areas.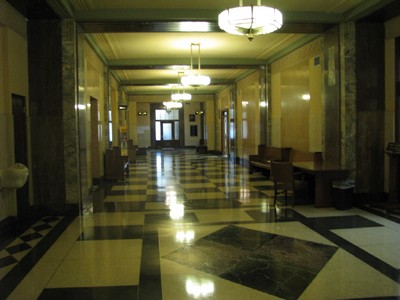 Using Marble for Floors
When considering a natural stone polished marble as a floor covering there are several factors to take into consideration, the two most common are location and ease of maintenance.
The effect of foot traffic on a marble floor
Polished marble used in heavily trafficked areas will always be subject to wear from abrasion. This is more common for natural stone marble floors in kitchens and halls. Foot traffic is abrasive and it wears down the polished surface of the marble floor creating dull patches. Signs of this can sometimes appear on natural stone marble floors within six months of installation. Sealing the marble floor can offer a little mechanical strength to extend the wear ability, but it will not prevent it from happening.
LTP MPG Sealer is our recommended product for protecting polished marble floors.
Correct maintenance of marble floors is vital
Using the correct maintenance products on marble floors can help to extend the life of the polished surface as they do not compromise the seal or damage the surface of the marble. If an inappropriate cleaning solution is repeatedly used it can damage natural stone weakening the surface. In the case of polished marble it can cause it to degrade and then show signs of wear sooner than expected.
LTP Waxwash is our recommended product for maintaining polished marble floors sealed with LTP MPG Sealer.
Restoring the sheen on marble surfaces
There are chemical solutions available to restore the sheen to a marble, however they tend to be for repairing small spot marks from acid spillage rather than whole floors. The best solution for restoring the polish on a marble floor is a mechanical one. The surface of the marble floor should be re-burnished using diamond pads followed by correct sealing and then an appropriate maintenance regime. This process is normally repeated every 12-18 months to help maintain the sheen.
When we see marble floors at airports and in hotel reception areas, machines are used repeatedly to clean and re-burnish the marble surface, this is how they manage to stay in good condition. This is not always so practical in a domestic situation.
An alternative finish for marble
If this all seems too much for you it might be worth considering a honed finish instead of a highly polished for your marble floor. as it will be more forgiving and will not need the repeated re-burnishing and re-sealing. A honed finish can be achieved using lower grit diamond pads and the same mechanical polishing process.
For a honed marble floor LTP recommends sealing with LTP Mattstone or LTP Mattstone H20 (Eco friendly selaer) and maintaining with LTP Waxwash.
SHOULD YOU USE A PROFESSIONAL FLOOR RESTORATION COMPANY?
The application techniques described above are achievable by a competent DIY enthusiast using the products as described. However, natural stone is often expensive and each stone has its own natural characteristics. We often find that many of our customers prefer to use the experience and skills of a professional stone restoration and cleaning company to make sure that their project finished to the highest standard.
LTP is pleased to be associated with the following companies that specialise in natural stone restoration and cleaning:
Still unsure? Try our new product guide to help select the correct products.
Please note that this information is offered as general guidance only and without guarantee. Your specific circumstances may need an alternative approach. In case of doubt, any process should be tried out in an inconspicuous area before general application.
At LTP we believe in helping to offer solutions and this is why we offer a no obligation
LTP TECHNICAL HELPLINE, so please give us a call on +44 (0) 1823 666213 or email [email protected] and we will be happy to help you