Cleaning, Sealing and Maintaining Natural Stone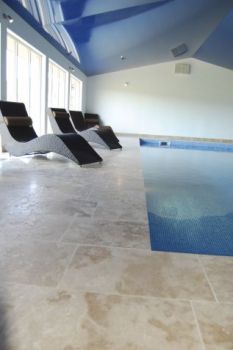 Natural stone has been a popular choice of cladding material in wet rooms and around swimming pools for centuries. As with all natural materials, it does need a certain level of care.
This post explains the LTP three-step approach to cleaning, protecting and maintaining natural stone surfaces used in wet rooms and swimming pool surrounds. The following guide will explain the process and help keep your surfaces maintained and in good condition for many years.
Natural Stone Surfaces – Wet Rooms & Swimming Pool Surrounds
The following instructions are for unpolished, travertine, limestone, marble, sandstone, slate, terrazzo and granite.
Step one: Initial cleaning
Before sealing, clean natural stone thoroughly to make sure that sealing the surface is effective. This is true of newly installed surfaces, as well as existing, due to the contamination that can occur during fitting.
For newly installed surfaces cleaning should remove all grout and cement residue and any general dirt or grime that has built up while fitting.
NEWLY INSTALLED SURFACES
Before grouting and once surfaces are clean and dry: Wash surfaces well with LTP Grimex and once clean and thoroughly dry, apply a minimum of one coat of
LTP Colour Intensifier & Stainblock. This treatment will help with the removal of residual grout and protect the surface of the stone.
Cleaning newly installed unpolished, travertine, limestone, marble, sandstone, slate, terrazzo and granite in wet room or swimming pool areas.
Dilute LTP Grimex 1:5 with water.
Apply solution to the surface and agitate. Turn under floor heating off.
Rinse well with clean water.
Use LTP Grout Stain remover to remove residual grout. (Do not use on limestone or marble).
Allow the surface to dry for 24 hours.
The 5 step process to cleaning
REFURBISHING USED AND HEAVILY SOILED STONE SURFACES
1. Thoroughly clean the stone before sealing. Remove old layers of sealer, dirt residues and deposits from after care products from the surface and pores of the stone.
2. Dilute LTP Grimex 1:3 with water, apply to the surface with a sponge or water brush and leave to sit on the surface of the tiles for as long as it takes for the dirt to release. 5-30 minutes depending upon the level of dirt
3. Agitate the surface with a stiff brush or emulsifying pad every 5-10 minutes (you can use a scrubber machine if the surface is suitable).
4. Continue to scrub while adding clean water. Remove residues from the surface with water or scrubber machine.
5. Rinse thoroughly with clean fresh water to remove all remaining residues.
6. Allow the surface a minimum of 3 dry and damp free days before applying the protective seal.
7. For the removal of other types of dirt refer to the table below.
8. Do not use acid based cleaners on limestone, marble or any other calciferous stone.
FOR THE REMOVAL OF OTHER TYPES OF DIRT REFER TO THE LIST BELOW. IF YOU ARE UNSURE PLEASE CALL OUR HELPLINE FOR ADVICE.
Step two: Protect your stone surface from stains
To protect unpolished, travertine, limestone, marble, sandstone, slate, terrazzo and granite surfaces in wet room or swimming pool areas and help prevent staining LTP recommends applying LTP Colour Intensifier & Stainblock.
The equipment you will need for this task: bucket, applicator, brush, cloth.
APPLICATION OF LTP COLOUR INTENSIFIER STAINBLOCK: ENHANCED NATURAL FINISH PROTECTS AGAINST WATER, OIL, GREASE, DIRT, GRIME, ORGANIC MATTER AND AIDS MAINTENANCE
Ensure surfaces are clean and dry. Turn under floor heating off.
Apply the product to the surface evenly using a brush or soft cloth.
Fully saturate the stone with sealer. Remove any un-absorbed excess (within 1 hours).
Allow to dry and do not walk on the surface for at least 3 hours.
Do not make wet or wash treated surfaces for a minimum of 3 days.
The 5 step process to sealing
Topping up the protection (wet rooms)
From time to time it may be necessary to top up the protection offered by LTP Colour Intensifier & Stainblock particularly wet rooms. To achieve this apply LTP Grout & Tile Protector spray. After cleaning and once surfaces are completely dry, spray the sealer 20cm from the surface in a sweeping motion making sure to cover the surface of the stone and grout joints. Touch dry within 5 minutes. Leave to cure for a minimum of 24 hours in wet areas before use.
Step three: Maintaining unpolished, travertine, limestone, marble, sandstone, slate, terrazzo and granite in wet room or swimming pool areas.
Using the correct maintenance product will increase the life of your stone seal, offer more protection against staining and make sure wet room or swimming pool area looks great. Common household cleaning products often contain harsh substances that can breakdown sealing products applied to stone. For this reason LTP recommends using LTP Waxwash on wet room and swimming pool areas sealed with LTP Colour Intensifier & Stainblock.
1. Dilute one capful of LTP Waxwash in a bucket of water.
2. Mop the surface with the solution. Do not rinse.
3. Allow to dry. Do not walk on the surface during drying time – 20 minutes.
4. Use LTP Stonewash to clean and maintain stone clad wet rooms and bathrooms.
Please note: A one litre LTP Waxwash will wash a 20 sq.m floor 40 times.

Maintaining natural stone in wet rooms and swimming pools
SHOULD YOU USE A PROFESSIONAL FLOOR RESTORATION COMPANY?
The application techniques described above are achievable by a competent DIY enthusiast using the products as described. However, stone products are often expensive and by nature each stone has its own characteristics. We often find that many of our customers prefer to use the experience and skills of a professional stone restoration and cleaning company to make sure that their project is completed to the highest standard.
LTP is pleased to associate with the following companies that specialise in natural stone restoration and cleaning:
Still unsure? Try our new product guide to help select the correct products.
PLEASE NOTE: Always follow the detailed instructions on the product labels. Protect stone surfaces from contact with acidic substances. Do not use abrasive materials on honed or polished stones. Avoid using normal detergents or strong bleach cleaners on sealed surfaces as they will gradually remove the protective seal.
Please note that this information is offered as general guidance only and without guarantee. Your specific circumstances may need an alternative approach. In case of doubt, any process should be tried out in an inconspicuous area before general application.
At LTP we believe in helping to offer solutions and this is why we offer a no obligation
LTP TECHNICAL HELPLINE, so please give us a call on +44 (0) 1823 666213 and we will be happy to help you.