PROJECT: REMOVING RESIDUES (SILICA DEPOSIT) FROM THE SURFACE OF MATT PORCELAIN

Super heated tiles that roll off of the production line are sprayed with water to cool them down before stacking. Sometimes a build up of dust and silica can remain on the underside of the tile; and when it is stacked on top of another tile; can cool to leave a hard to remove residue on the surface of the tile.
This can sometimes go un-noticed in larger factories because the tiles are collected and then packaged at the end of a production line by robots.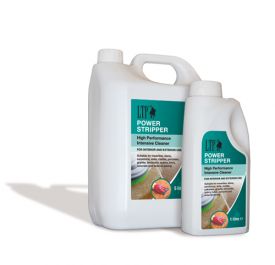 Apply un-diluted LTP Power Stripper to the surface of the tiles and agitate immediately using a black course emulsifying pad.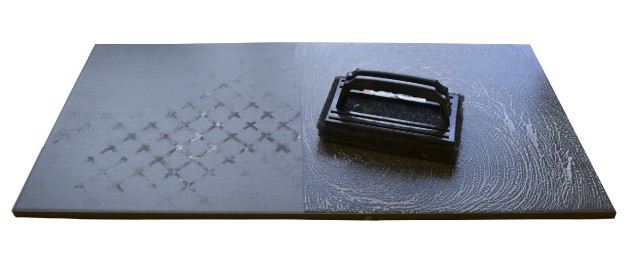 Leave for 15 minutes. Add a little water and agitate again. Rinse with water and leave to dry.
RESULTS: A GRID FREE CLEAN SURFACE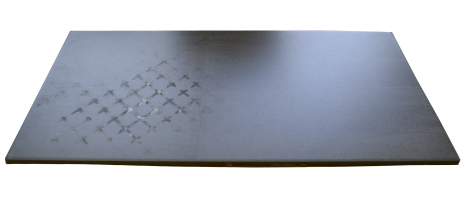 IMPORTANT NOTES:
If a slight residue remains once dry, repeat the above process.
Wherever possible clean the tiles prior to fixing. Cleaning solutions applied to vertical surfaces are not able to stay in place long enough to be as effective, making removal much slower. If cleaning a vertical surface start from the top and work down.
Please note that this information is offered as general guidance only and without guarantee. Your specific circumstances may need an alternative approach. In case of doubt, any process should be tried out in an inconspicuous area before general application.
Still unsure? Try our new product guide to help select the correct products.
Resolving stain issues on natural stone can prove difficult. At LTP we believe in helping to offer solutions and this is why we offer a no obligation LTP TECHNICAL HELPLINE, so please give us a call on +44 (0) 1823 666213 and we will be happy to help you.