Natural Stone Tiles – How to Fix & Seal to Avoid Discolouration?
Installation of natural stone tiles can cause discolouration?
Poor tile installation and fitting of natural stone surfaces is often the cause of discolouration of the surface. Natural stone tiles should always be buttered on the back and then laid into an even bed of adhesive. Spot fixing often causes issues with discolouration of the tile surface.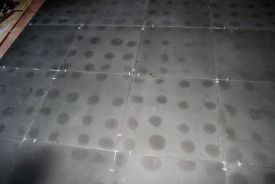 Natural stone floor installed using spot fixing. This has caused discolouration of the tiles.
What is spot fixing?
This is a method of tile installation and slab laying that involves only placing enough grout or cement at the corners and centre of the tiles, in order that it is laid level. This process will leave voids between the adhesive, tile and the sub floor. These voids will be the root cause of the issue of staining and discolouration.
What causes the discolouration?
Tile installation requires the use of moisture with in the adhesive used to fix the tile. When using spot fixing to install tiled surfaces this moisture can collect in the voids between the tile, adhesive and sub floor. When this occurs, minerals from the adhesive or concrete sub floor become activated. These minerals can then travel through to the face of the stone leaving a ring mark or staining effect. Each ring outlines where the spot of adhesive is under the stone.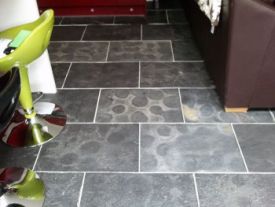 When spot fixing is used the appearance of interior floors can be significantly effected
The difference between Natural Stone and Concrete?
Spot fixing natural stone is not the same as spot fixing a concrete paver. Concrete pavers are in general much denser with fewer larger capillaries. Fixing concrete to concrete with cement does not normally result in the same staining issues. However, when fixing a natural stone paver it is important to butter the back of each slab with mortar before laying them into an even bed of mortar to avoid staining.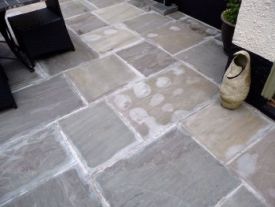 Spot fixing is also an issue when natural stone tiles are laid outside
Removing spot fixing discolouration
Removing staining associated with spot fixing is very difficult. This is because it is not just on or near the surface, but right through the stone. Scrubbing the surface with a residual grout or efflorescence remover such as LTP Grout Stain Remover may help to lighten the appearance of the ring marks, but it does not always completely eliminate them. It is also often harder to remove the marks if the surface is sealed when laid.
Acid based cleaners such as LTP Grout Stain Remover can also affect acid sensitive surfaces such as limestone or marble, however if the they are rough cut or tumbled the contact with an acid makes little difference to the overall appearance provided that it is applied evenly. Stones such as sandstone and slate are not normally affected.
Quite often the only effective method of resolving this issue is to rip up and replace and then complete tile installation correctly following your adhesive suppliers recommendations.
Laying natural stone tiles correctly
When laying natural stone tiles correctly we would suggest sealing the stone with LTP Mattstone, LTP Mattstone H20 or LTP Colour Intensifier & Stainblock, depending upon your surface type and desired finish. These are impregnating breathable sealers that will help to enhance and protect the stone and at the same time allow the microscopic transition of moisture.
Still unsure? Try our new product guide to help select the correct products.
PLEASE NOTE: Always follow the detailed instructions on the product labels. Protect stone surfaces from contact with acidic substances. Do not use abrasive materials on honed or polished stones. Avoid using normal detergents or strong bleach cleaners on sealed surfaces as they will gradually remove the protective seal.
This information is offered as general guidance only and without guarantee. Your specific circumstances may need an alternative approach. In case of doubt any process should be tried out in an inconspicuous area before general application.
At LTP we believe in helping to offer solutions and this is why we offer a no obligation LTP TECHNICAL HELPLINE, so please give us a call on +44 (0) 1823 666213 or email [email protected] and we will be happy to help you.