We were contacted recently by a customer whose pet had a little accident on their Stoneworks Tumbled Pietra Limestone and tried to remedy it by spraying CIF Bathroom cleaner on it, the result is shown in the photo below!
Our response to help rectify was…………….
LTP Grimex should be used to clean the surface of the stones that have been damaged by the CIF spray. This will help to neutralise the reaction that has caused a change in the character of the stones surface. The Lighter marks will still remain following cleaning, but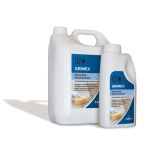 should appear a little darker.
Remember to work on the entire piece of stone and not just the areas that are affected. This should be done in a way that does not allow the cleaning solution to spread over onto neighboring tiles, so whole pieces of stone, but only up to the grout joints.
Apply LTP Grimex diluted 1 : 3 with water and agitate the surface….leave for 10 – 15 minutes….agitate again and then rinse well using a sponge and water.
Leave the stone to dry.
Apply LTP Stone Oil to the surface and allow to absorb. Check the surface after 45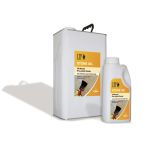 minutes and then wipe up any excess from the surface. This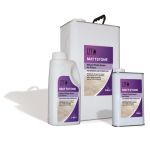 should be repeated until the colour of the stone has been restored. For extra protection and after a 24 hour curing time for the Oil a coat of LTP Mattstone can be used over the top.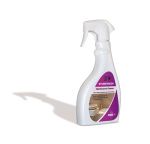 For dealing with spillages quickly when they occur we would suggest LTP Stonewash Spray.
This is a spray and wipe cleaner which will remove spillages without compromising the seal or damaging the surface of the stone.
For daily/weekly mopping use LTP Waxwash. This cleaner is PH Neutral and contains a trace of linseed oil, which makes it ideal for cleaning and embellishing sensitive sealed surfaces. A 1 ltr bottle is enough solution to wash a 20 sq.m
floor 40 times.
Hope this helps…
Customers response "Hip hip hooray"
It's worked hooray
Thank you so much
Please thank your guy for his help
I can't believe it
Thanks very much again xx
This information is offered without guarantee. The material should be used so as to take account of the local conditions and the surfaces to be treated. In case of doubt, the products should be tried out in an inconspicuous area before general application.