Having been dormant over the summer months, most fireplaces need a little attention come the autumn. They are, after all, the focal point of a cosy night in and, at Christmas, a key feature for decorations and festivities.
In general, stone hearths and surrounds are robust and require little maintenance. Stone is, however, surprisingly porous and can be easily stained – and sometimes permanently discoloured – by soot, smoke, candle wax, wine and coffee. Unlike stone floors, newly installed fireplaces often aren't sealed to protect them - but treatment of both old and new stonework is very easy, and will be well worth the effort.
Step 1 – cleaning
Whether your fireplace is old or brand new, it will benefit greatly from a thorough clean. Newly installed stone will have become dusty during fitting, and residue will need to be removed before the surface can be sealed. If you apply a sealer over residue, the dust and dirt will become sandwiched between the stone and the sealer; this will prevent the treatment from absorbing into the stone – and from doing its job – and will create a patchy finish.
For a thorough clean, we recommend LTP Stoneclean. It's a fast-acting foaming aerosol solution, so it can be safely applied onto vertical surfaces without risk of run-off. Stoneclean can be used on polished and unpolished surfaces – and it removes dirt, soot, grime and any build-up of wax and aftercare product.
To apply the foam treatment, just point and spray in a sweeping action, 15-20cm from the surface. It will penetrate deep into the stone's porosity in between 5-10 minutes. The surface should then be agitated using a white emulsifying pad and a little water, before being rinsed with a clean sponge and clean water; change the water regularly to avoid recontaminating the surface. A repeat treatment may be necessary if the stone is very stained.
Step 2 – sealing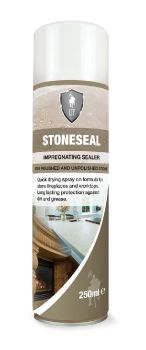 To protect the fireplace from stains, apply LTP Stoneseal. Like the cleaner, it's also an aerosol, so it's quick and easy to apply. The treatment creates a colourless barrier - without altering the appearance of the stone - and protects against water, dirt, oil, grease, soot and limescale. As well as protecting the surface, LTP Stoneseal will also make cleaning easier. A little water can be dropped onto the surface 30 minutes after application, to test the protection. If it's absorbed, a second or third coat can be applied to give maximum protection. The surface will be fully dry within 2-3 hours of the final application, and fully cured 3 days later.
On smooth, polished surfaces, any visible excess should be removed five minutes after application, with an absorbent cloth. The surface should be buffed with a soft lint-free cloth.
Step 3 - maintenance
To keep the newly treated surface clean, use a specialist treatment like LTP Stonecare. It will clean without damaging the sealer or the stone's surface. Stonecare is applied in the same way as Stoneclean and Stoneseal – just spray 15-20cm from the surface, then wipe the stone with a clean cloth and leave to dry. Honed and polished surfaces should be buffed to finish.
During each stage of treatment, rooms should be well ventilated. For more advice, visit https://www.ltp-online.co.uk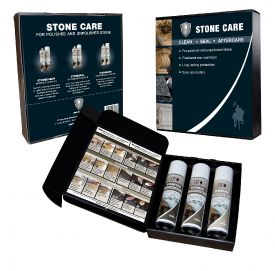 All three treatments can be purchased individually or together, in LTP's Stone Care pack. They can be used on of all types of polished and unpolished natural and artificial stone including: travertine, limestone, sandstone, slate, marble, granite, quartz, terrazzo, basalt, concrete and all other types of masonry surface. To work out how much solution you'll need, visit https://www.ltp-online.co.uk/26/coverage-calculator