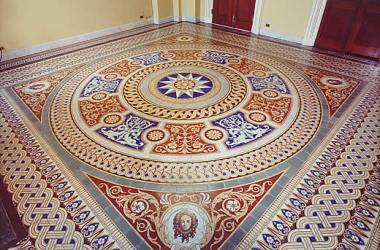 Encaustic tiles are made of two or more colours of clay that are then mixed or inlaid together to create a pattern, they are then fired.
Encaustic effect Cement tiles are created by pouring different colour mineral pigments into a mold, grey cement then fills the rest of the body of the tile, this gets hydraulically compressed and left to set or cure for 3 weeks.
Both tiles are unglazed and would require sealing.
For more information please follow this link.
Prior to sealing it is always advisable to clean the tiles thoroughly with a solution of LTP Grimex. This advice goes for both newly laid and renovation projects. Remember not to use acid based cleaner with encaustic tiles .
When it comes to sealing there are various options available depending on the desired look of the floor, however the most popular are the natural Matt finish using either LTP Mattstone or the water based equivalent LTP Mattstone H20. Depending on the type of encaustic tile being used, up to three or four light coats of sealer might be required. Always test on an inconspicuous area first and buff off any excess.
LTP Colour Intensifier is also popular as its use offers a delicate enhancement of the different coloured patterns within the encaustic tile.
Finally, as always, the use of a compatible aftercare product in this case LTP Waxwash, will ensure optimum longevity for the sealed surface as standard householdcleaners may compromise the effectiveness of the seal over time.
Correctly sealed and maintained an encaustic floor should last three to four years before re sealing is required.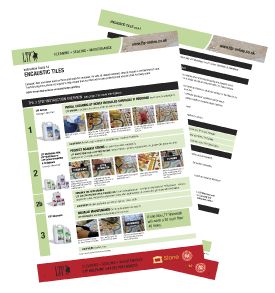 To download an information sheet, Please follow the link below.
Still unsure? Try our new product guide to help select the correct products.
This information is offered without guarantee . The material should be used so as to take into account of the local conditions and the surfaces to be treated. In case of doubt, the products should be tried out in an inconspicuous area before general application