Eco-friendly water-based sealer for natural stone – LTP Mattstone H20
Following 18 months of research and development, LTP launched its flagship eco-friendly water-based impregnating sealer LTP Mattstone H20 in the spring of 2011.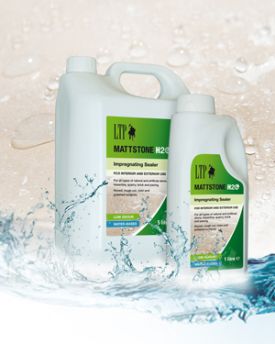 The LTP team were keen to deliver a sustainable eco-friendly product solution for sealing natural stone that matched increasing customer awareness of environmental impact.
Tightening restrictions on the use of Volatile Organic Compounds (VOCs) has ensured that water-based sealing products for natural stone are becoming more widely available in the market place. As demand has risen so water-based technology has improved. It was vital that any LTP solution created needed to set the standard for such technology and deliver results that matched existing products options. So, inspite of the advances in technology, the Research & Development Department at LTP embarked on a program to make sure that the formulation chosen for the new Mattstone H20 impregnating sealer provided the best possible results at a realistic price.
"Our chemists looked at all the raw materials available, these were mixed to create various formulations. We then began testing these against various criteria such as stain resistance, longevity, and water beading on all types of natural stone. Interestingly enough it was the 20th formulation we tested that finally hit the mark, hence the appropriate name for our eco-friendly water-based impregnating sealer" comments technical director Mark Atkins.
LTP Mattstone H20 is keenly priced when compared with similar water-based impregnating sealers on the market.
Mark Atkins continues, "You can find cheaper water-based impregnating sealers, but be careful, these tend to be hydrophobic only. It is important to make sure that the sealer you choose is going to protect your natural stone surface from oil based stains as well as water, that's the tricky bit from the chemistry aspect. We are delighted with the performance of LTP Mattstone H20, which we feel has resistance properties equal to our traditional spirit based Mattstone product."
Eco friendly and low odour
Apart from the obvious benefit to the environment, the other important selling point is that unlike the spirit based alternatives, LTP Mattstone H20 is essentially odour free on application. This puts it at a great advantage especially in circumstances when a surface has to be sealed and made suitable for immediate use, all in a short time scale.
LTP Mattstone H20 can be used internally and externally and is suitable for all types of natural and artificial stone.
Some care should be taken during application as the procedure differs slightly from traditional LTP Mattstone application. With LTP Mattstone H20, as indeed with most water-based impregnating sealers it is necessary to apply wet in wet. Apply Mattstone H20 generously and evenly with a lint free cloth, or similar and make sure even distribution by wiping over several times. After 15 minutes any excess sealer should be removed with an absorbent cloth.
Provided the finished surface is regularly maintained with a suitable maintenance product, in this case LTP Waxwash, LTP Mattstone H20 should provide the end-user with excellent protection for their natural stone surface.
Please note that this information is offered as general guidance only and without guarantee. Your specific circumstances may need an alternative approach. In case of doubt, any process should be tried out in an inconspicuous area before general application
At LTP we believe in helping to provide solutions and this is why we offer a no obligation LTP TECHNICAL HELPLINE, so please give us a call on +44 (0) 1823 666213 and we will be happy to help you.